It's the time of year to travel, and in this week's look back at Cochrane history, we go to talk of highways.
In the May 16th, 1930 issue of the Northland Post was a report about provincial lands and forests minister William Finlayson talking about a road to James Bay.
It would be the continuation of the North Bay-to-Cochrane Ferguson Highway, opened only three years earlier.
Cochrane Public Library archivist Ardis Proulx-Chedore has more.
"In speaking of the highway, Mr. Finlayson stated that when the road to James Bay was completed, Ontario would have one of the greatest and most attractive motor highways in the world."
The government was also speculating about building a road from Cochrane to Sudbury, along the hydro transmission line from Abitibi Canyon.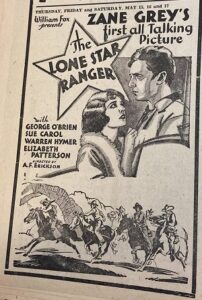 Proulx-Chedore notes that the same issue of the Northland Post had an exciting ad about what was playing at the Empire Theatre.
"William Fox presents Zane Grey's first all-talking picture,'The Lone Star Ranger', starring George O'Brien, Sue Carol, Warren Hymer and Elizabeth Patterson; directed by A.F. Erickson."
Our weekly look at the history of Cochrane is made possible by the archives at the Cochrane Public Library.