Our weekly local history feature wouldn't be possible without the archives at the Cochrane Public Library.  This week, we drop  a lot of names from photographs.
A photo from the Friday, January 17th, 1947 Timmins Daily Press shows eight local women finishing clothes at the Red Cross work room.  The caption says the group had an enviable reputation, contributing more wearing apparel and supplies per capita than any other town in Ontario.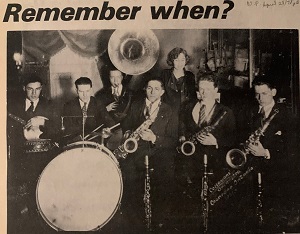 We also have a photo loaned to the Northland Post in 1971 by Frank Karma for its "Remember when?" feature..  It's from 1931,  depicting the Collegians. The caption says they performed intricate and enticing musical stylings from the Crystal Ballroom of the Hotel Cochrane, overlooking the beautiful shores of Lake Commando.
The musicians were George Beadman on banjo; Barney Bernstein on drums; Jim Martin playing bass; John David, Marty Hannan and Bernie Breland on sax and clarinet; and Joy Pickering on piano.