-With files from Tim Rout
The Cochrane District Social Services Administration Board and Ininew Friendship Centre have cut the ribbon on a six-unit transitional housing complex.
The $1.6-million apartment block is on Fourth Street West in Cochrane.
DSSAB CAO Brian Marks says  provisions of the provincial Residential Tenancies Act don't apply until the 365th day of occupancy.
"So transitional housing is intended to be short-term, supports applied and then people move to some other level on the housing spectrum," he explains, "whether that's home ownership, rental, (or) other supportive housing."
Marks says it made sense to partner with Ininew, because the homeless population in Cochrane is over-represented by Indigenous people. So the friendship centre can help with culturally appropriate services.
"We need not only culturally appropriate space, but also culturally appropriate services to make sure people get what they need and then can find culturally appropriate permanent housing."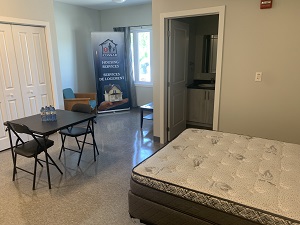 Here is Tim Rout's interview with Brian Marks: