The scariest place to be around Halloween is outside Teri Kirkman's home on Oil Tank Rd. in Iroquois Falls.  And her Halloween Extravaganza is back this year, for private tours the afternoon of Friday, October 28th and for the public the next two days from 2:00pm until 8:00pm.
Kirkman keeps adding displays to her yard every year.  This year, she's adding tombstones for Vladimir Putin over his invasion of Ukrain, and to COVID-19.
The extravaganza is run entirely by volunteers. Kirkman says she still needs some for setup, teardown and to act as guides dressed in one of hundreds of costumes she has.
"Anyone that comes is met by a guide and they take them through so they don't miss anything," she explains. "Then when they're done, they can go back through at their leisure and take their pictures and stuff."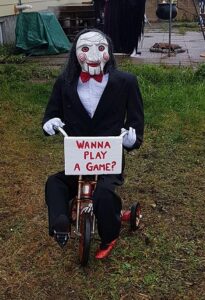 All that Kirkman asks is that you bring a non-perishable food item for the food bank or contribute a bit of cash, although she never turns anyone away. She says her annual extravaganza is her chance to give back.
"When I was a little girl, we had those UNICEF boxes where we'd collect the pennies and stuff. So to me, Halloween is always about helping people."
Kirkman's still looking for volunteers to help out.  A link to her contact information is right here.