It took a lot of work over the summer  — snowmobilers call it the off-season – and directors of the Jackpine Snowmobile Club from Iroquois Falls can't believe how well they did.
Director Carmen Girard says that using several methods, the club was able to smash through its $15,000 target for raising money to buy a used snowmobile, hitting $19,897. That means it can buy a new machine, which they found at Paps Motorsports in Cochrane.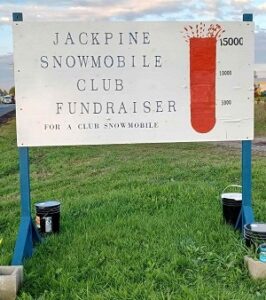 "Someone ordered a brand new machine in June and has now changed their mind," Girard explains. "It's exactly what we need, so we are looking at a 2023 Skandik 900 Ace."
Girard calls the machine a workhorse, and Rémi Papineau is asking Bombardier to give the club a 10% discount. It will be used to retrieve a groomer operator who gets stranded on the trails for any number of reasons.
"Also for packing down swamps, putting up signs, taking down the signs," she adds. "It will allow more volunteers to have accessibility to help out."
Girard is looking forward to the new snowmobiling season.  She's hoping for deep frost before any snowfall.  Because of the wet summer, it's important to have a solid base on which to build the trails.