The most important element in any town's history is its people.  In this week's Cochrane history feature, we look at two of them. They're from profiles written in 2017 by public library archivist Ardis Proulx-Chedore, a type of walk of fame to comply with the winter carnival Hollywood theme.
JOSEPH BERNIER
"1914 was the year the first automobile arrived in Cochrane and Joe Bernier was the owner," Proulx-Chedore wrote. "It cost him $700.00 plus tax. The car had to be shipped to Cochrane from Cobalt by rail. He was proudest giving rides to the public."
Annie Dunn was Joe Bernier's wife. She worked at the Bell Local and Long Distance telephone office.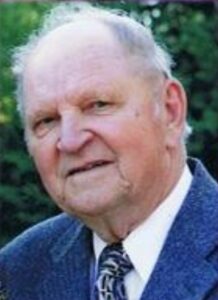 LARRY ADSHEAD
Larry Adshead was the municipal clerk-treasurer for 28 years, retiring in 1988.
"More than 100 people were present for his party at the Legion when he retired," she found in her research. "Highlights of his career were promoting residential development in the town, and development of Drury Park. He was also instrumental in the building of the National Grocers and Normick Perron Incorporated."
Larry Adshead died in 2014.
Thanks, as always, to the Cochrane Public Library for its contribution to our weekly history feature.