Every Friday, we're helping the Iroquois Falls Pioneer Museum in its effort to put names, times, places and events on thousands of photos.
This week, we have two.  First, museum volunteer Danny McIntyre talks about a photo of Girl Guides and possibly Brownies.
"Presumed to be the 1st Iroquois Falls Girl Guides," he says, "because there was no Girl Guide troop at that time in Ansonville and we're not sure of anyone in the picture."
Also featured this week is the photo below, of the high school band.  McIntyre identifies the music teacher as Vic Eisenbach.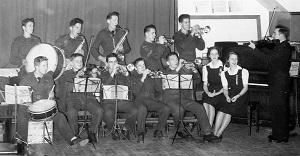 "Front and centre of the back row is Mike Kuzmich on saxophone," he adds, and one of the violinists is Steve Kulgawchuk. These are all obviously army cadets."
Also note the two girls sitting on the piano bench.
If you can help, contact the museum.