The now former mayor of Iroquois Falls is speaking out about his almost three years in the top position on town council. Pat Britton resigned effective Wednesday, at the urging of his cardiologist and his family. He's reluctant to talk about accomplishments and challenges because he's "not very happy with the council."
He adds that COVID-19, an aging population and shrinking tax base combine to put increasing pressures on the budget.
"We had plans to move forward, some of which council was flipping and flopping on, so it made it even harder to get things accomplished, unfortunately."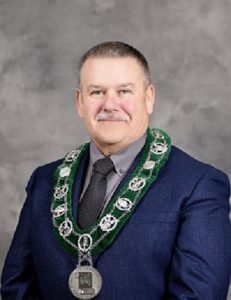 Britton says during his time as mayor and a previous eight-year stint as a councillor, he was always looking out for the taxpayer. He elaborates on some of the budget pressures.
"Now a few years ago when the mill was still running, that was great," he notes. "But when they shut the mill down, we lost $3.1-million in tax revenue from them."
Britton observes that the province downloaded three highways to the town that have to be kept up to provincial standards.  There's also talk that pipelines running through the municipality might get a tax break, and the province might cut back on its municipal partnership fund.
Britton's advice to his eventual replacement: Watch the bucks and spend wisely, based on facts.