With this past Friday's official celebration of Cochrane Tel's 100th anniversary, our history feature today focuses on its predecessor, the Public Utilities Commission.
It was established in 1921, to look after water, sewage, electricity and telephone service for the town.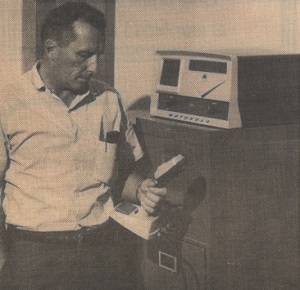 Cochrane Public Library archivist Ardis Proulx-Chedore reads from a Cochrane Times feature on the PUC's 75th anniversary in 1996.
"The 1940s made for trying times and the PUC found itself dealing with increasing demands of the rapidly expanding community. The commission during the early years was comprised of the mayor and two elected commissioners, and in 1957 this number expanded to five members."
On that 75th anniversary, the Times interviewed commissioner Ken Rochon.  He had been at the table for 27 years at that time.
Proulx-Chedore shares a quote from that article.
"I went to a nomination meeting in 1969 to nominate someone and somebody else nominated me for the PUC. I was going to decline, but the mayor (Maurice Hotte) talked me into making a go of it.  I consented and got elected and got to like it."
There's a photo on our website of the 1996 version of the commission.
A search through Cochrane history can be started at the public library, in its archives.